SELENGKAPNYA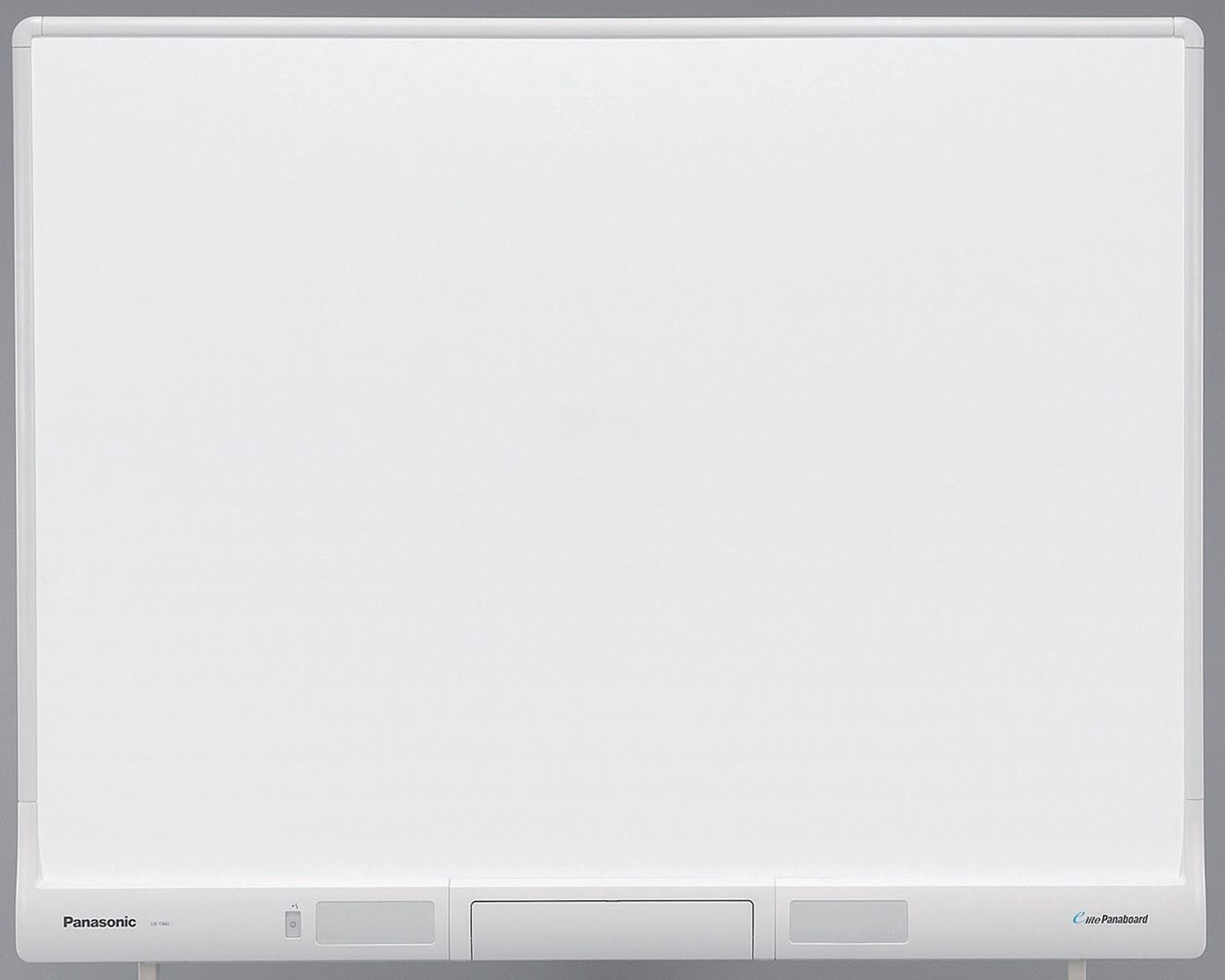 Spesifikasi PANASONIC Panaboard UB-T880

Main Body
Power
Power Consumption
During Operation: 0.5 A (When power is OFF by the power switch: 0.2 W)
Operating Environment
10 – 35°C (50 – 95°F), Humidity: 30 – 80 %
External Dimensions (Height x Width x Depth)
1,320 x 1,657 x 117 mm (4 ft. 4 in. x 5 ft. 5 1/4 in. x 4 5/8 in.)
Screen Board Size (Height x Width)
1,175 x 1,602 mm (3 ft. 10 1/4 in. x 5 ft. 3 1/16 in.)
Effective Area (Height x Width)
1,175 x 1,567 mm (3 ft. 10 1/4 in. x 5 ft. 1 11/16 in.) (77-inch, diagonal)
Weight (without stand)
Panel Surface
Melamine Coated Hardboard
Position SensorCapacitance Type Touch Sensor
Put Electronic Pen away in the Pen Pocket (Maximum 4 Pens)
Interactive Functions
Interface
USB 2.0 B Type 1 port (for PC)
USB 2.0 A Type 2 ports HUB (for USB Peripheral Devices)
Audio Features
Audio Input
Input Level: 309 mVrms (1 kHz, 0 dB, 10 kΩ)
Stereo 1 system, φ 3.5 mm (1/8 in.) stereo mini jack
Audio Output
2 W + 2 W (Max. 4 W + 4 W)
Electronic Pen
Transmission System
Electronic Pen Power
LR03 (AAA alkaline dry cell battery) x 1
Electronic Pen Battery Life
30 hours (when used continuously at 25°C [77°F])* When using Panasonic LR03 alkaline dry-cell batteries.

Accessories
Operating Instructions x 1, Power Cord (3 m) x 1, Electronic Pen x 1, Battery (LR03 AAA alkaline battery) x 1, USB Cable (5 m) x 1, Software DVD-ROM x 1, Penpoint (Replacement) x 1, Wall Mounting Plate (Left, Right) x Total 2

Optional Devices
Stand [KX-B061], Electronic Pen [UE-608026], Up/Down Unit [UE-608030], Stand Table Unit [UE-608031], Short-Throw Arm Unit [UE-608032], Wireless Kit [UE-608040]*2
Elite Panaboard Software Specifications
System Requirements
Computer
IBM® PC/AT compatible with a DVD-ROM drive, Web browser
CPU
Intel® Pentium® 4 processor or later
Interface
Operating System
Windows XP SP3 or later / Windows Vista SP2 or later / Windows 7*3 (Windows XP 64-bit edition is not supported.)
Memory
Hard Disk
At least 700 MB free space (except saving space for data file)*4
*1 Dimensions and weights are approximate.
*2 Regulations vary for each country.
*3 Windows® 7 Starter and Windows® 7 Home Basic are not supported.
*4 An additional 700 MB may be required when installing .NET Framework.

Ringkasan Produk PANASONIC Panaboard UB-T880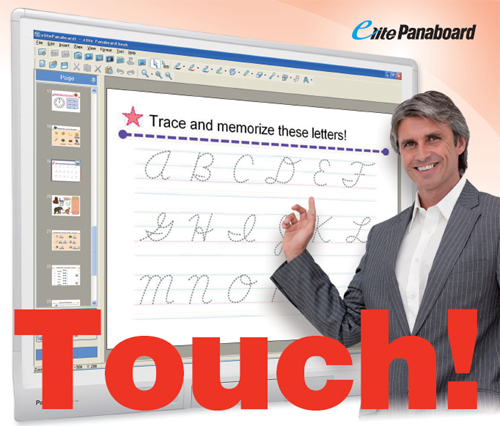 3 poin sentuhan simultan, di mana saja di papanBesar 77-inch layar untuk tinggi-dampak pelajaran Kedua jari-touch dan operasi pena elektronik atau penggunaan simultan dari kedua Built-in speaker stereo untuk menambahkan bahan ajar dengan suara2 USB port untuk plug-in perangkat tambahan seperti kamera dokumen atau printer
77 Whiteboard "Interaktif
The Panaboard UB-T880 merupakan alat pendidikan dan presentasi canggih yang memungkinkan Anda meraih perhatian penonton dan menyimpannya. Dengan menghubungkan PC dan proyektor, Anda dapat membawa sejumlah besar informasi online yang tersedia, atau informasi apapun pada PC Anda, langsung ke kelas Anda.

Multi-user akses membawa siswa bersama-sama
Perangkat lunak yang kuat memberikan pengguna akses ke keyboard interaktif, halaman kerja hingga 10, fasilitas zoom, fungsi teks pengakuan dan fitur lebih pintar yang membuat proses belajar jauh lebih menarik.
Sebuah papan tahan lama dikemas dengan fitur canggih
Permukaan lama hidup dengan refleksi minimal berarti daya tahan ekstra dan silau berkurang. Dewan ini disampaikan dengan Pen Multi Fungsi Elektronik, yang mengintegrasikan empat pilihan warna yang berbeda, penghapus, dan remote control untuk operasi PowerPoint slide semua dalam satu alat.
Perencanaan pelajaran hanya menjadi angin
Dengan software Easiteach, UB-T880 mengambil keuntungan dari database yang luas lebih dari 4.700 ilustrasi dan 70 video, dimana guru akan dapat memilih dari saat membuat pelajaran mereka sendiri.
Desain Yang Kuat

Permukaan
Tahan lama yang keras dan konstruksi yang kuat telah menciptakan sebuah papan tulis interaktif yang dibangun untuk terakhir - namun alasan lain mengapa Panasonic memiliki reputasi untuk keandalan.
Kekuatan Inovasi

Pena interaktif memungkinkan Anda untuk mengubah warna, pilih stabilo atau menghapus dengan satu sentuhan sederhana. Setiap papan juga dilengkapi dengan perangkat lunak Easiteach Generation RM selanjutnya.
Kekuatan Touch

Revolusioner multi-touch sensor menghapus semua hambatan buatan dengan memungkinkan tiga orang untuk bekerja secara simultan pada setiap bagian dari papan, menggunakan kombinasi pena interaktif atau sentuhan jari.

Gallery Image PANASONIC Panaboard UB-T880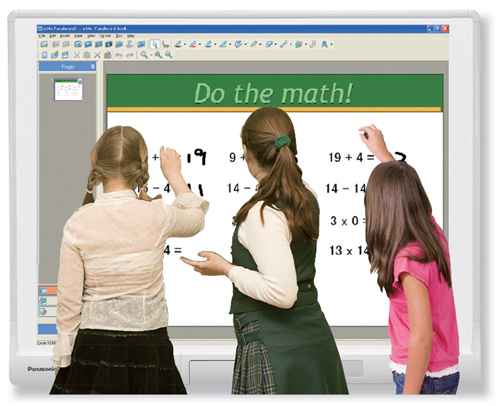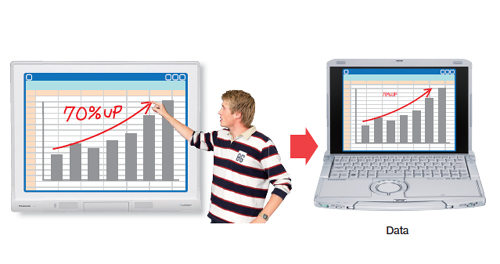 Demo Video PANASONIC Panaboard UB-T880



07 JAN 2013 RHJ
SELENGKAPNYA